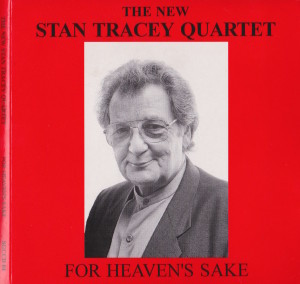 I was having dinner with my old jazz buddy John Jack a few nights ago. The conversation turned to reminiscences of his many decades in the jazz world with luminaries like Stan Tracey.
Here are JJ's thoughts about Stan from his 1995 Album "For Heavens Sake".
My first awareness of Stan came from the Vogue LPs issued during my days behind the counter in Doug Dobell's legendary Record Shop, followed by involvements in appearances by the New Departures Quartet organised by our mutual friend Victor Schonfield – I still remember hitch-hiking to Oxford on my halfday off from Dobell's to see them at the Carfax Rooms followed by climbing in to one of the colleges to spend the night on Victor's floor.


During the mid Sixties a period as a general odd-bod on the staff of Ronnie Scott's original Gerard Street premises brought me in daily contact with Stan who for most of that decade was house pianist, providing visiting "giants", especially Sonny Rollins, Zoot Sims and Ben Webster with some of the most challenging and rewarding partnerships of their careers. Nightly exposure to these feasts cemented my appreciation of Stan's artistry.


Working with Mike Westbrook in the early Seventies we decided to launch our own label commencing with material by Mike's then current band. Mike Osborne, a longtime member of previous Westbrook units, then brought us a tape of the concert he had played the previous year with Stan Tracey, an electrifying encounter between two totally honest, emotionally creative music makers, both devoid of any preconceived limitations on the art of the improviser. Such a powerful performance demanded an equally dynamic follow-up release, hence the Wigmore session (of which the duo section still lurks in the archives).


By now marketing our albums together with those of a number of other independent, mostly musician owned labels that blossomed forth in the early Seventies curtailed my production activities. My links with Stan continued through our distribution of he and his wife Jackie's Steam label, augmented by attending as many of his gigs as possible.
The appearance of each new permutation, the big band, Hexad, the octet, various duos and the enduring joy of the quartets and quintets with Bobby Wellins, Art Themen, Don Weller and Peter King has been an undiminishing source of pleasure throughout the Eighties and on into the Nineties . . . and now comes yet another inspired teaming to quarry fresh gems from the inexhaustible lodestone of Stan's genius.


In the alliance with trumpeter Gerard Presencer Stan maintains what by now, given its longevity, could be termed a tradition with him. From the commencement of his career in the Forties he has always found most artistic satisfaction and stimulus from associating with people with open and enquiring minds rather than those who leap on each new passing fad; his involvement with Laurie Morgan, Sonny Rollins, John Stevens, Mike Osborne, John Surman, Keith Tippett, Bobby Wellins, poets Pete Brown and Michael Horovitz are but a few examples that spring to mind. Still only in his early Twenties, Gerard has already at least a decade of public performance, frequently in some fast company, to his credit, which gives him a firm foundation for the adventures ahead with Stan. And, what gives additional value and excitement to this initial outing by the Quartet is that it is the product of their first get-together – prior to any gigs as a unit! With a debut this powerful it's mind-boggling to contemplate their impact live, especially after a few gigs.